When a Former Builder Builds a 2-story Garage in the Woods | The Building Showcase
"It was great," said Amos. "I could order one day and get it delivered the next."
Amos is the owner of this 26 x 32 garage in Mohnton, PA, and those were his thoughts on what it was like working with A.B. Martin.
Amos built the garage himself with the help of some family and friends – a formidable task for a do-it-yourselfer. But he isn't your average do-it-yourselfer: Amos had over fourteen years of construction experience prior to building his garage. He said that about 80% of the projects he worked on were post frame building – also called pole barns. And he would have built a pole barn garage for himself if it weren't for the bank. Instead, he had concreters come in to pour the foundation and walls. Then he stud-framed the two-story garage.
Originally, Amos was considering using attic trusses, but one of the salesmen at A.B. Martin suggested that he compare the price of attic trusses to doing a full second story. Amos took his advice, and found that the price difference – combined with the extra space – made it worthwhile. So he choose to make a second story. And he's glad he did.
The downstairs has room for two cars plus extra storage. And the upstairs is where Amos has his hobby workshop.
"The front porch is great for the kids to park their bikes," said Amos.
Almost everything you can see from the outside came from A.B. Martin's warehouse – including the lumber, posts, doors, all but one window, and the metal roofing and siding. "Probably about 98% of the materials, not counting the concrete, came from A.B.," he said.
When he was a builder, Amos got to see many different buildings. When he saw features and design elements he liked, he filed it away.
"I always dreamed that if I built a garage back in the woods, I'd use Evergreen."
Amos used the ABM Panel in Textured Evergreen for the roof and trim, and Clay for the sidewalls. When asked why he chose the textured panel instead of the smooth, he said, "Mainly the looks." The textured panels diffuse the sunlight so that they have less glare than smooth panels would have. But Amos is also glad that the textured panels and trims are a thicker gauge steel – 26 gauge instead of 28 gauge – especially since the garage is in the woods with trees all around it. "I don't have to worry as much about falling branches."
It was a pleasure serving you, Amos. Thanks for building with A.B. Martin.
Roof Panel: ABM Panel
Roof Color: Textured Evergreen
Side Panel: ABM Panel
Side Color: Clay
Location: Mohnton, PA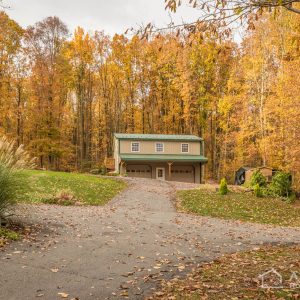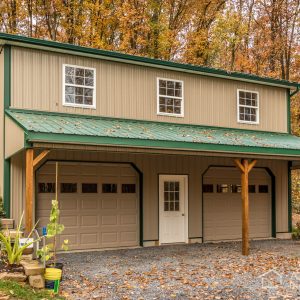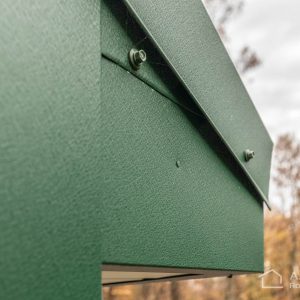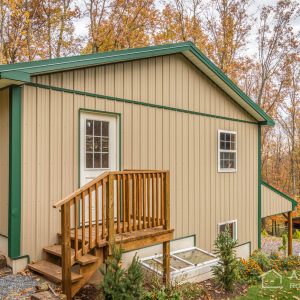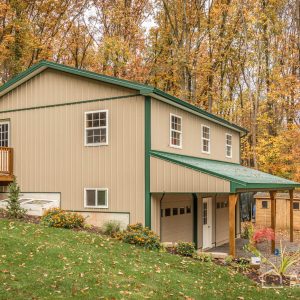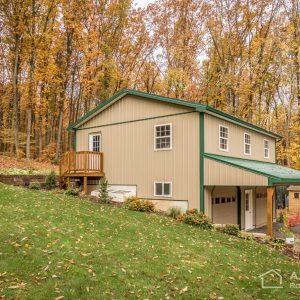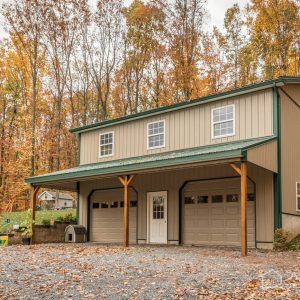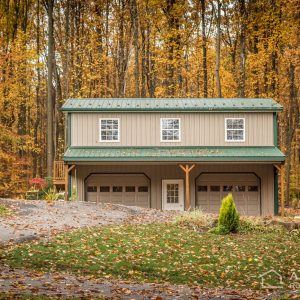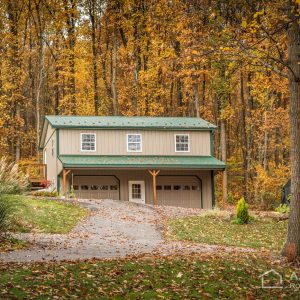 Learn more about the advantages of metal roofing:
Is a metal roof way more expensive than shingles?
Is a metal roof heavier than shingles?
Need a contractor? Search our database
Will Shingles or Metal cost me the most?