What is the Building Showcase?
We're always excited to see exceptional buildings from exceptional builders.
Over the years, we have collected hundreds of photos and videos from all over Pennsylvania and the east coast that showcase the craftsmanship of our contractor/builder customers.
Dozens of them have been featured on the A.B. Martin calendar.  Many of them are featured in our photo gallery and in our advertisements.
But we wanted a way to share them with you directly.
We call it the Building Showcase.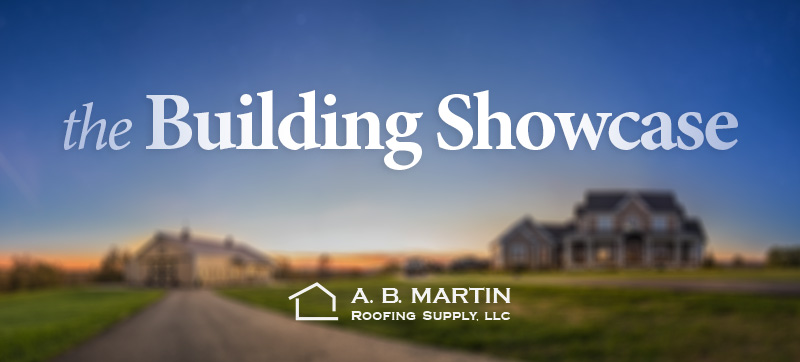 What is the Building Showcase?
The Building Showcase is a free email series with high-quality photos and videos that highlight what has been done with building materials from A.B. Martin.
Along with the photos and videos are brief descriptions of the building materials used, the location of the building, and the builder.
You can sign up by clicking the link below and filling out the form.  (Make sure you check the check box for the Building Showcase.)
We know for every building we visit, there are dozens more that we don't (but should).
It's not that we don't want to.
Every day, hundreds of orders get shipped to job sites all across the east coast.  Most of the time, we never see the finished building.  We might know the color of the panels that went on the truck, but we don't get to see what it looked like all put together.
So we really enjoy it when a builder or property owner tells us about their finished masterpiece or shares a photo.
We rely heavily on our builder/contractor customers to let us know about their exceptional buildings.  Then, with the builder's permission, we collect the contact information of the property owner and send our in-house photographer to the completed building – usually after the landscaping has been finished.
We can't count the times we have been blown away by the exceptional work and attention to detail that builders have put into their buildings.
If you know a building we should showcase, but haven't yet, we've created a submission form where you can tell us about it.
A special thanks in advance for your submissions.  We hope you enjoy the Building Showcase.
And thanks for being an A.B. Martin customer.
Let us know if there is anything we can do for you.
---
---
---
---
---
---
---
---
---
---
---
---
---