We get it. With how busy your are, it's hard to stay on top of lead times and order deadlines. But that doesn't change the fact that your customers are counting on you to deliver a quality finished project on schedule.
AB Martin is here to help.
We stock and manufacture 35,000 building products that are ready for fast shipment. That includes metal roofing made to order, lumber, insulation, doors, windows, and more. And most of our sales team are former builders who can guide you through challenging customer requests with their industry expertise.
All of this is to help you avoid a building nightmare and get the job done right.
Request a catalog or give us a call to place your order: 888-606-1094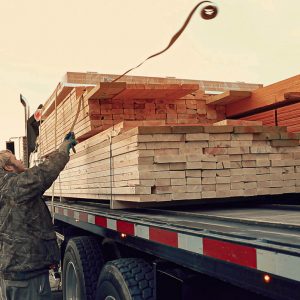 How to Order Metal Roofing
Step 1
Select your panel style and colors. Then give us a call with your lengths, quantities, trims, and accessories needed. (If you need help, don't worry. We can assist you with calculating your materials.)
Step 2
We manufacture your metal roofing to the nearest quarter inch and pull the rest of your order together for delivery. Or, we can stage it for you to pick up at the time you choose.
Step 3
The materials arrive safely at the job site and construction begins.
All metal panels and some trims are made to order and are not returnable.