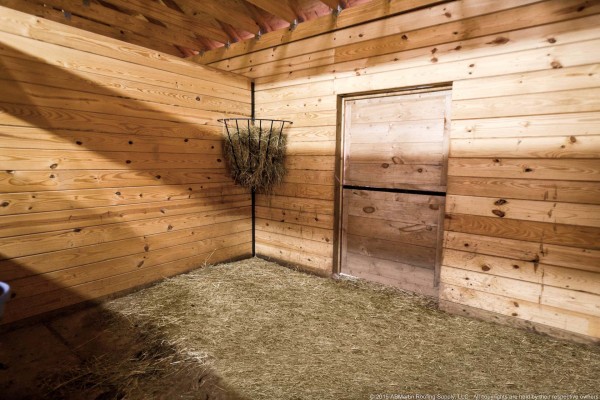 Beautiful & durable horse stalls constructed with tongue & groove southern yellow pine 2×6 or 2×8 lumber fronts and partitions. All wood is surfaced on 4 sides for a smooth finish. Use treated lumber for the bottom two rows to resist rot and decay from contact with ground and manure. Yellow Pine is a beautiful wood that provides unequaled strength and accepts finishes well. The tongue and groove design provide a unified construction for strength and durability.  Combine this with our powder-coated grilles and accessories for a truly finished appearance.
Stall Wall Rails, Wall Caps, and Corner Angles
Our full line of powder-coated black steel rails, caps, and angles lets you complete your stall system to suit your needs. Our heavy-duty stall wall rails attach easily to any post for receiving the ends of the stall wall planks. Wall caps prevent cribbing on any exposed plank edges. Corner angles make the ideal cribbing guard for wooden posts.
Window Grilles
Our window grilles feature fully welded construction with 14 ga. powder-coated black galvanized steel. Window grilles, which are available in a size to fit most common window openings, allow you to safely include windows in your barn and stall designs. The pole spacing of the grilles prevents the horse from getting at the glass while still allowing the benefits of a window for fresh air and natural lighting.
Door Keepers
Our welded steel keepers serve as the guides and stops for the stall door. The fully hidden design eliminates any exposed points that could injure your horses or yourself. They are easy to install.  Simply position the keepers where desired and attach with the provided fasteners. There are no moving parts to wear out or break, and, like everything else, they are powder-coated black.
Track and Trolley Systems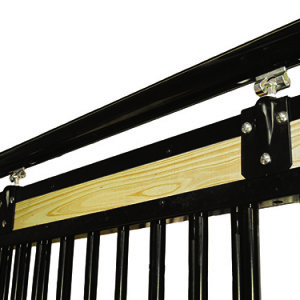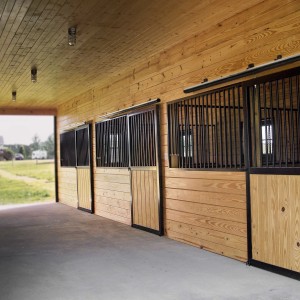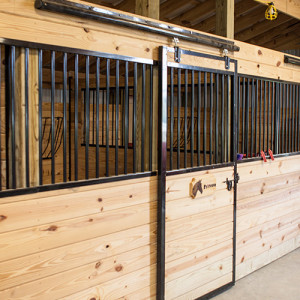 Cannonball:HNP has matched up to the ideal track and trolley combination for horse stalls. Your stall system will come with our easy-to-install weatherstrip track, powder-coated black to match the finish of your stalls. Your stall door will be carried by a pair of Delrin strap trolleys with the straps also coated to match the stalls. This self-cleaning and self-lubricating system is backed by a lifetime warranty on the track and trolleys.

Wooden, Steel, and Aluminum Hinged Doors
The 4' x 7' split hinged door allows you to open both panels allowing horses to pass through, or just open top panel to allow fresh air and sunlight through and permit the horse to lookout. All doors come fully pre-hung for easy installation.
AB Martin is a Manufacturer and Supplier of Quality Building Supplies. Contact us to speak to one of our knowledgeable sales representatives.