More Than Roofing: The AB Martin Legacy of Service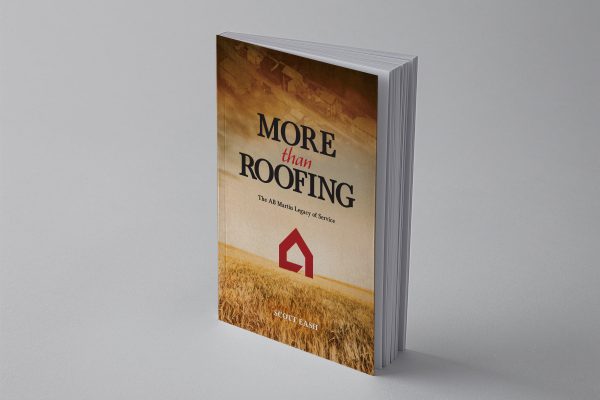 Now you can read about the history of AB Martin in this new book! Full of hundreds of full-color photographs!
The book is available at AB Martin and the stores listed below.
Description:
The history of AB Martin is the story of how a poor farmer's business grew into a highly successful building supply company over seven decades.
Amos B. Martin, a Mennonite farmer from Lancaster County, started selling metal panels in 1947. He had few resources, but his strong work ethic, frugal nature, and care for others were all the resources necessary.
More Than Roofing introduces readers to the fascinating owners and employees behind AB Martin's legacy of service. Learn how a family-owned company came from humble beginnings and continues to build on a Christian heritage guided by biblical principles to this day.
Where can you buy More Than Roofing?
Available at these Pennsylvania stores:
Clay Book Store, Ephrata, PA, 717-733-7253
Conestoga Bookstore, Ephrata, PA, 717-354-0475
Country Dry Goods, Greencastle, PA, 717 593 9661
Cumberland Supply, Newville, PA, 717-776-5951
Golden Apples Bookstore, Mifflinburg, PA, 570-428-2546
Goods Store – East Earl, PA, 717-354-4026
Goods Store – Ephrata, PA, 717-733-7356
Goods Store – Quarryville, PA, 717-786-9028
Goods Store – Schaefferstown, PA, 717-949-2663
Home Messenger – Ephrata, PA, 717-833-4456
Home Messenger – Myerstown, PA, 717-866-7605
Keystone Housewares, Mifflinburg, PA, 570-966-4100
Masthof Bookstore, Morgantown, PA, 610-286-0258
Rockville Bookstore, Rebersburg, PA, 814-349-5478
Rocky View Book Store – Newville, PA, 717-776-7987
Slate Road Supply – Ephrata, PA, 717-445-5222
Vintage Volumes – Anneville, PA, 717-383-9878
Wise Dry Goods, Loysville, PA, 717-789-4308
Available at these stores outside Pennsylvania:
Caliber Feed & Supply, Windsor, OH, 440-272-1900
County Line Store, Shiloh, OH, 419-896-3003
Dutchman's Store, Cantril, IA, 319-397-2322
Valley Housewares, Fort Plain, NY, 518-603-8091