Metal Roof Tax Credit – 2021 Update
The ENERGY STAR metal roof tax credit was extended from December 31, 2017 to December 31, 2021. This is great news for homeowners wanting a tax break for making a smart investment in a new roof.
This tax credit is for ENERGY STAR certified metal roofs with pigmented coatings designed to reduce heat gain. Certified roof products reflect more of the sun's rays, which can lower roof surface temperature by up to 100F, decreasing the amount of heat transferred into your home.
A majority of A.B. Martin's metal roof colors are ENERGY STAR certified and apply for the Federal tax credit.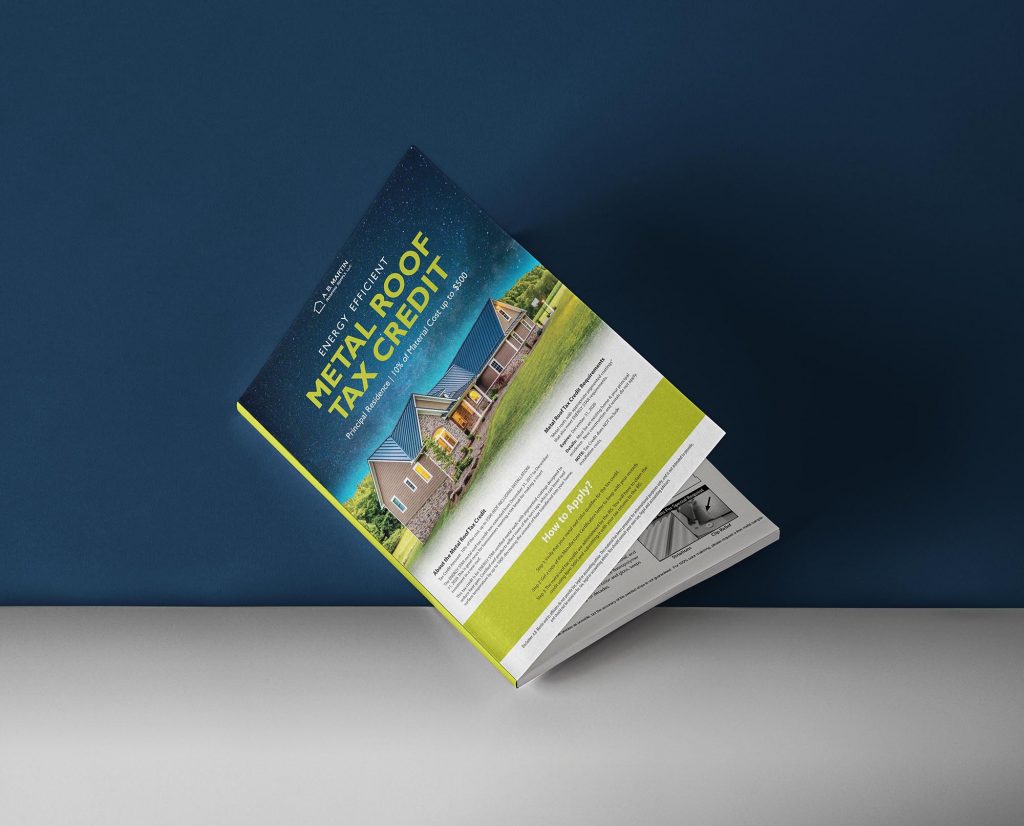 How Much is the Metal Roof Tax Credit
Tax Credit Amount: 10% of the cost, up to $500 (NOT INCLUDING INSTALLATION)
Metal Roof Tax Credit Requirements
"Metal roofs with appropriate pigmented coatings" that also meet ENERGY STAR requirements. (Scroll down for the list of A.B. Martin's qualifying colors.)
Expires: December 31, 2021
Details: Must be an existing home & your principal residence. New construction and rentals do not apply.

NOTE: Tax Credit does NOT include installation costs.
How to Apply?
Step 1: Verify that your metal roof color qualifies for the tax credit. (Download the resource pack or scroll down for a complete list of qualifying colors)
Step 2: Download a copy of the Manufacturer Certification letter (included in our info pack) to keep with your records.
Step 3: The metal roof tax credits are administered by the IRS. You will have to claim the credit using the form below and submitting it with your tax returns to the IRS.
If you have other questions, please contact the IRS:
What if I already filed my tax return?
Because the tax credit is based on 10% of your material cost, depending on the size of your roof, it might be worth having your accountant file a revised tax return.
NOTE: A.B. Martin and its affiliates do not provide tax, legal or accounting advice. This material has been prepared for informational purposes only, and is not intended to provide, and should not be relied on for, tax, legal or accounting advice. You should consult your own tax, legal and accounting advisors before engaging in any transaction.
A.B. Martin's Qualifying Colors
Fluropon
Bright Red
Burgundy
Charcoal Gray
Classic Green
Copper Penny
Dark Bronze
Gallery Blue
Hartford Green
Hawaiian Blue
Mansard Brown
Medium Bronze
Musket Gray
Slate Gray
Weather XL
Ash Gray
Barn Red
Beige
Black
Bone White
Bright White
Bronze
Brown
Burgundy
Charcoal
Clay
Colonial Red
Evergreen
Forest Green
Light Stone
Patina Green
Pewter Gray
Scarlet Red
Slate Blue
Tan
Textured WeatherXL
Textured Ash Gray
Textured Black
Textured Bronze
Textured Burgundy
Textured Charcoal
Textured Colonial Red
Textured Evergreen
Get the Metal Roof Tax Credit Info Pack
Included in the info pack:
SRI Documentation with Qualifying Metal Roof Colors
Manufacture Certification Letter from Sherwin-Williams Coil Coatings
2019 IRS Form 5695 and instructions
Digital Color Charts