How Metal Roofing is Made
We take metal roofing seriously. Get an inside look at the production of metal roofing.
Watch as the metal is transformed from a metal coil into a stunning workshop roof.
Step 1: Pre-Painted Coils
We purchase the 5-ton steel coils that meet our quality specifications directly from the steel plant. We ship them, first, to the coating facility, where the precoat and Sherwin-Williams' top coat are applied, before shipping them to our warehouse.

The coils are cataloged and carefully stored out of the weather — ready for use.
Step 2: Uncoiled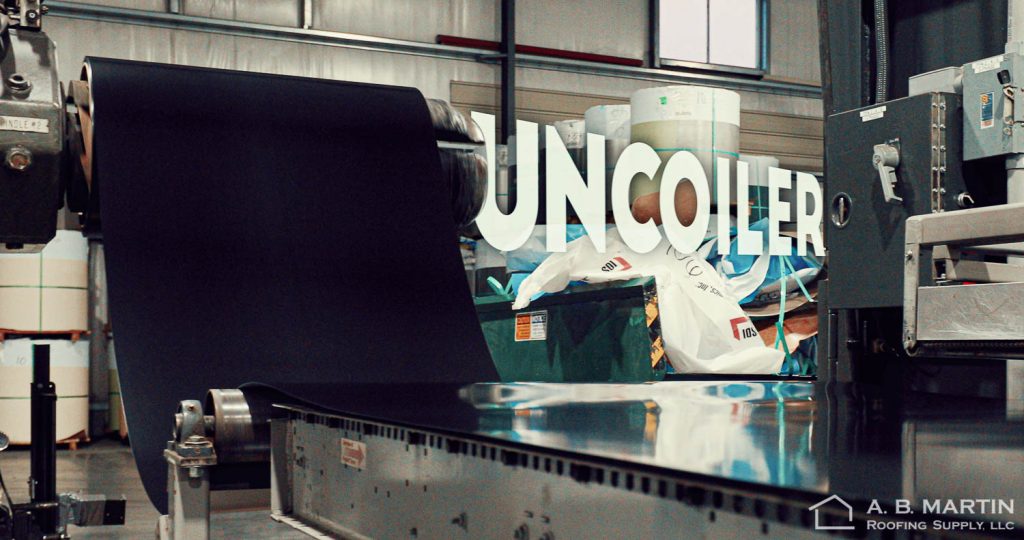 When an order is received, the coils are placed on the uncoiler that feeds the steel onto the rollformer.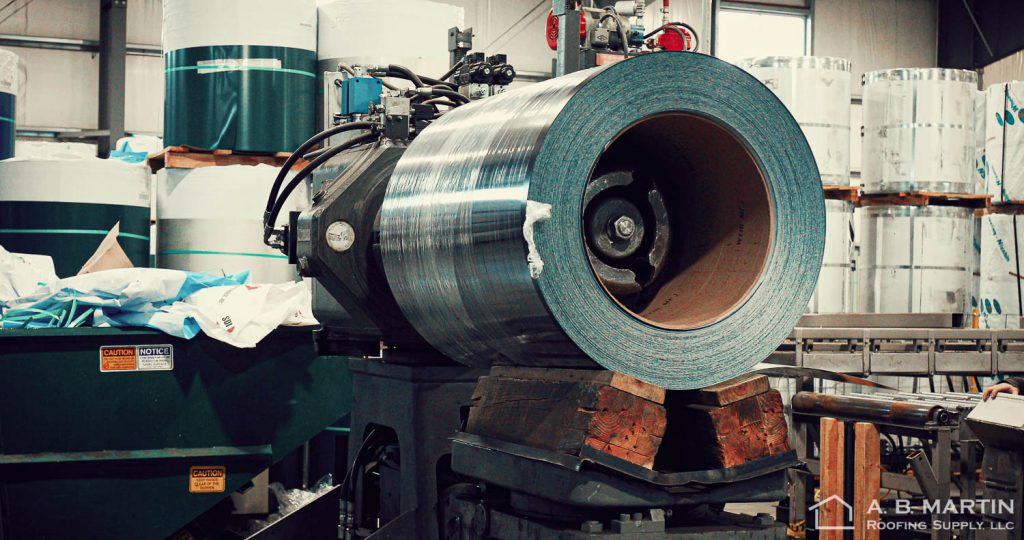 Step 3: Heat Formed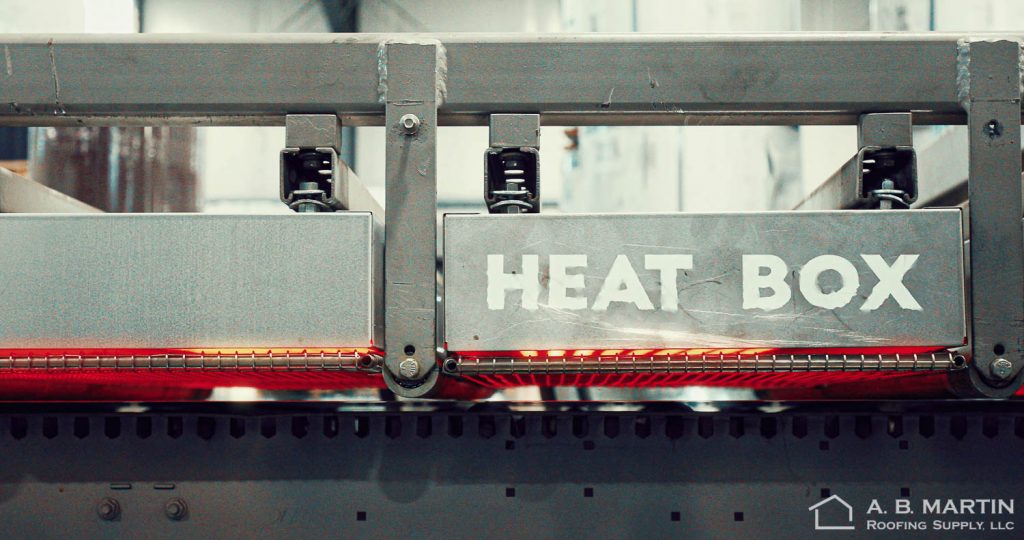 For better performance, the ABM panel passes through a 1,000° Fahrenheit heat-box that warms the panels and temporarily softens the paint coating. This allows the paint to flex and bend with the steel as the panel is formed. Without heat-forming, the paint would crack and would likely
rust. More on heat forming here.
Step 4 Imprinted for Quality Control
Each ABM panel is imprinted on the underlap with the order number, customer name, panel length, the date it was made, and the product grade (example: G-100 or Standard). This is how we are able to offer our low-hassle 40-year warranties. If there is ever a problem, the customer only needs to unscrew one of the panels to find the order number and manufacture date to initiate a warranty claim.
Step 5: Cut-to-Length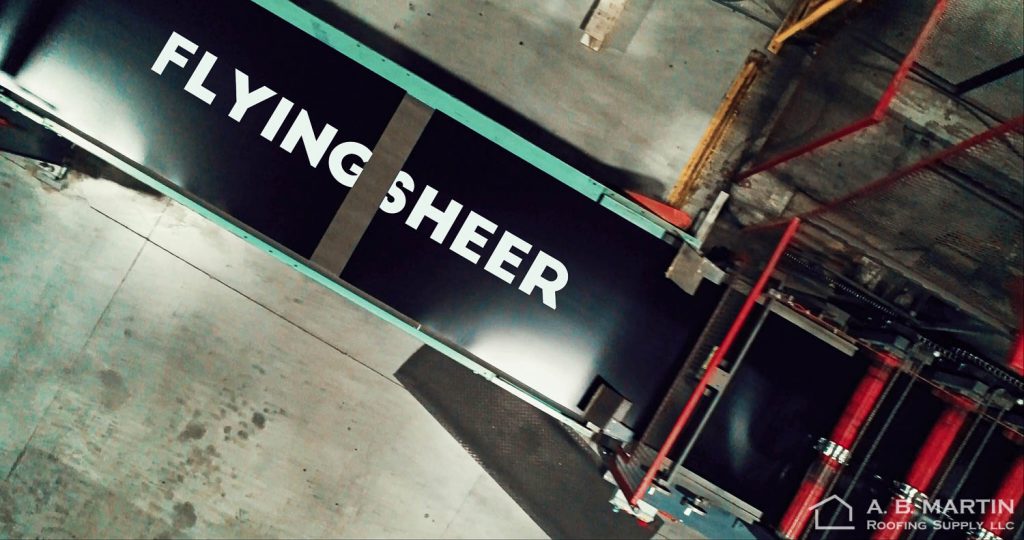 The ABM panel is made to custom lengths within a 1/4" thanks to what we call the "flying sheer." The flying sheer cuts the steel with amazing precision as it speeds down the line.
Step 6: Roll-Formed
The cut sheets go through a series of rollers with dies that form the steel into the ABM Panel profile. The ABM Panel comes with a 40-year paint warranty and can be expected to last even longer if properly maintained.
The ABM Metal Panel is an all purpose panel that is economical and easy to install. It is an excellent solution for residential, commercial, and agricultural roofing and siding.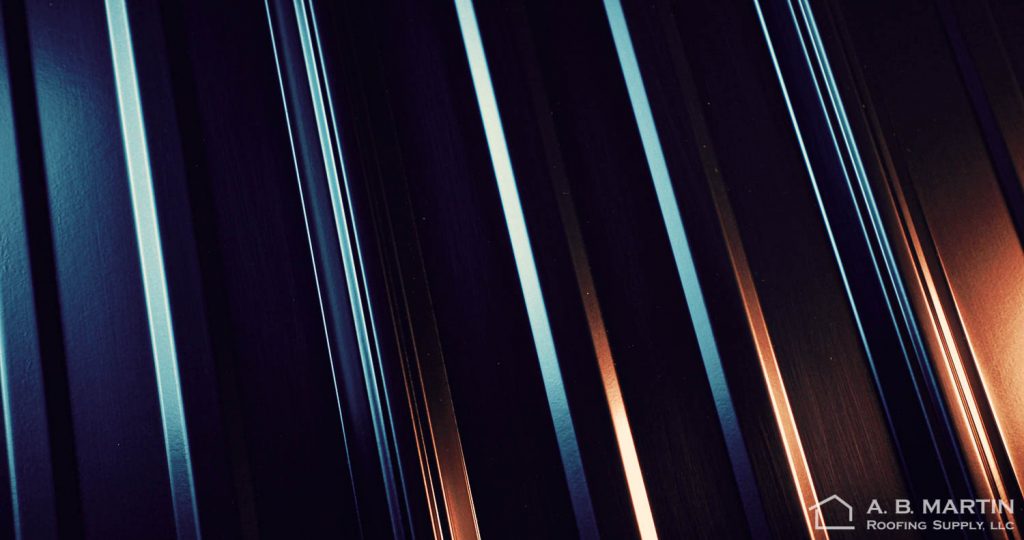 Panel Specifications:
• 36″ Coverage
• 3/4″ High Major Ribs
• 28 or 26 Gauge Steel
• Available in over 30 Energy-Efficient Colors!
• Cut-to-length in Quarter Inch Increments
• 40-year Paint Warranty
• Economical – (Most of the colors qualify for "Cool Roof" Tax credit)
Step 7: Banded and Prepared for Shipment
A cover sheet (which often varies in color) is placed on top of the stack to protect the panels before the stack is banded together. A forklift transports the bundled panels to the customer's waiting truck or trailer, or places it on the holding rack ready for shipment to the job site.
About Us – AB Martin
We get it. With how busy you are, it's hard to stay on top of lead times and order deadlines. But that doesn't change the fact that your customers are counting on you to deliver a quality finished project on schedule. AB Martin is here to help. AB Martin stocks and manufactures over 35,000 building products that are ready for immediate shipment when you need it… YESTERDAY! Most of our sales team are former builders who can guide you through challenging client requests with industry expertise.
Build with AB Martin and you'll get the job done.
Whether you're looking for a garage, horse barn, riding arena, animal shelter, agriculture or commercial building, we provide the complete package. We have a knowledgeable sales team that can help you choose the right metal panel or design a post frame building.
And if you don't have the time or ability to build your own building, visit our Contractor Locator to find a builder near you.
Learn more about our ABM Panel.
Get inspiration from our Photo Gallery.
Is a metal roof way more expensive than shingles?
Is a metal roof heavier than shingles?
Need a contractor? Search our database.
Will Shingles or Metal cost me the most?
© Copyright 2021, AB Martin All rights reserved.