[Drone Video] Strock Horse Farm – Building Showcase
The Building Showcase is back with an amazing aerial drone video of the Strock Horse Farm highlighting the ABM Panel on its unique buildings.
Nestled away in a quiet, rural setting lives the Strock Horse Farm in Mechanicsburg, PA. Like many country farms with a history, it has a mix of old and new buildings.
In 2007, the house was re-roofed by King's Roofing and Siding.
In 2011, Quarry View Construction built an indoor riding arena attached to the existing bank barn.
In 2017, Kauffman Brothers re-roofed and re-sided the bank barn giving it new life.
In 2018, Sunrise Valley Construction built a new horse barn.
The color scheme for all the buildings have remained fairly consistent: Pewter Gray ABM Panel roof, Beige ABM Panel sides, and Barn Red ABM Panel wainscoting and trim.
Roof Panel: ABM Panel
Roof Color: Pewter Gray/Ash Gray
Side Panel: ABM Panel
Side Color: Beige
Wainscoting Panel: ABM Panel
Wainscoting Color: Barn Red
Builders: King's Roofing and Siding, Quarry View Construction, Kayffman Brother's, and Sunrise Valley Construction
Location: Mechanicsburg, PA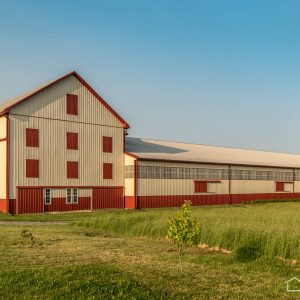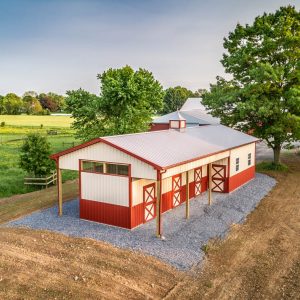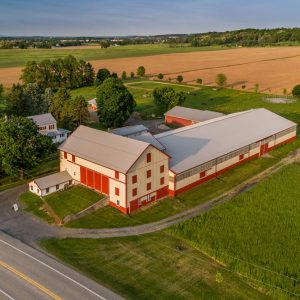 Learn more about the advantages of metal roofing:
Is a metal roof way more expensive than shingles?
Is a metal roof heavier than shingles?
Need a contractor? Search our database
Will Shingles or Metal cost me the most?