View our Lumber, Posts, and Trusses Catalog.
Glulam Post

Stronger:
Multiple members increase strength over solid sawn members. Laboratory tested design values.
Dimensional Stability:
GluLams have consistent dimensions, are straighter and available in longer lengths (up to 40') than solid sawn members. GluLams are also resistant to twisting, splitting and checking.
Lightweight:
Kiln Dried CCA lumber which allows finished post to weigh approx. 60% of similar sized treated solid sawn member.
Safer:
Structural adhesives mean nails and lags hold without splitting plys as with nail laminated columns, also no nails or plates to damage saws. Untreated tops reduce exposure to CCA and allow use of standard fasteners. (non-corrosive)
Economic:
GluLams are competitive priced and do not carry the high premiums for longer lengths as solid sawn members.
---

Green Posts

Provides superior protection from the harmful effects of:
Concrete
Termites
Soil Nutrients
Rot & Decay
Soil Organisms
Oxygen
Moisture
Corrosive Soil Agents
Extends the service life and enhances the performance of wooden posts.
Environmentally Friendly
Not only does GREEN POST function as a barrier to prevent decay, it also prevents the preservative chemicals in treated post from entering the soil.
Exclusive Notch Design
Provides superior resistance to wind uplift.
(Up to four times the uplift resistance as rebar or blocking methods.)
Eliminates the need to fabricate the typical anchoring devices on the jobsite.
Many Possible Applications
Pole Buildings
Deck Posts
Fence Posts
"Barrier protection will substantially increase the lifespan of any utility pole by protecting it from fungal & insect attack far more effectively than a preservative treatment alone can achieve while preventing preservatives from leaching into the environment."
"Barrier systems are designed to prevent the invasion of wood-destroying fungi and termites which typically occurs as the preservative migrates from the wood leaving it vulnerable to attack."
– Osmose and Copper Care, the leaders in chemical preservatives for utility poles.
---

Perma-Column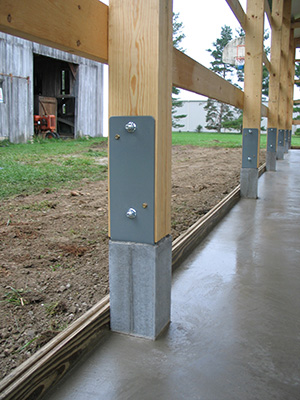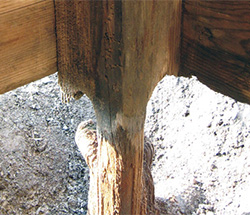 Perma-Columns are five-foot precast concrete columns that keep wood out of the ground, ensuring your building's foundation will never rot. They are the first product to combine the economy of pole building construction with the durability of a concrete foundation. Simple installation. No waiting on concrete trucks. No treated wood in the ground. No More Rot Problems!

Now available with glu-Lam posts pre-attached.
Sturdi-Wall Drill Set Brackets
Heavy duty, drill-set anchor system.  Designed to connect pole building structures to existing traditional concrete foundations.
Sturdi-Wall Plus Wet Set Brackets
Heavy duty, wet-set anchor system designed to connect pole building structures to traditional concrete foundations.

Perma-Column Deck Post