2018 Thanksgiving Week Sale
Thanksgiving is just around the corner. And that means you're in for some amazing deals, giveaways, and free food at A.B. Martin's hardware stores. (See details below)
10% OFF Storewide Thanksgiving Week!
The week of Thanksgiving (Nov 19-24, 2018), get 10% OFF almost everything in our hardware stores. (Excludes metal roofing, lumber, and most building materials).
Extra Savings on Popular Items!
Plus save even more on popular items like power tools, caulk, and heaters!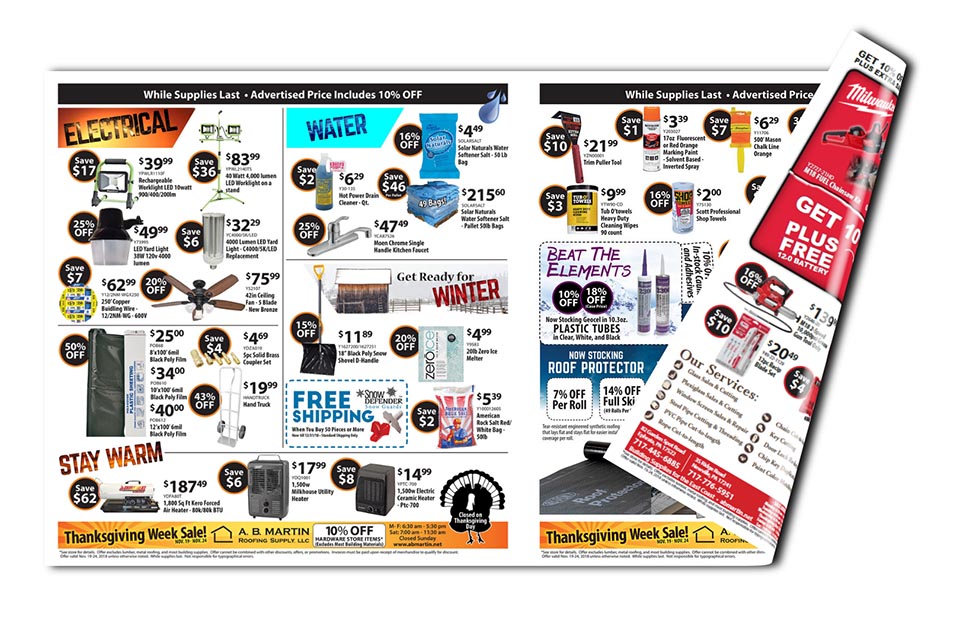 Pick up a store flyer at either location or preview it here.
Some of the Top Deals
Get 10% OFF the 30′ Fatmax Tape Measure PLUS buy one get one FREE!
10% OFF all in-stock Fiberglass Insulation
10% OFF all in-stock Vanmark Brakes and Accessories (Allow 2-3 days for transfer to our Newville Location)
10% OFF all caulks and adhesives
18% OFF the new Geocel Plastic Tubes when you buy them by the case. Stocked in Clear, Black, and White (24/case)
10% OFF all power Milwaukee, DeWalt, and Makita Power Tools
Get 10% OFF all in-stock Paslode PLUS a $50 online rebate on qualifying purchases of $500 or more.
10% OFF all Stinger cap staplers, cap nailers, and nails
Get 20% OFF the Stinger CS150 Stpaler and the CN100 Cap Nailer
Save $62 on the DuraHeat 1,800 sqft kerosene heater
FREE Shipping on Snow Defender Snow Guards when you buy 50 pieces or more now till 12/31/18. (Standard Shipping Only)
Get 10% OFF per roll of Tyvek slip-resistant Protec 120 and 15% OFF when you buy it by the skid (49 rolls/skid)
Get 7% OFF per roll of the new Tyvek Roof Protector synthetic roofing underlayment and 14% OFF when you buy it by the skid (49 rolls/skid)
10% OFF Milwaukee, DeWalt, and Makita Power Tools!
Get 10% OFF the new Milwaukee M18 FUEL Chainsaw or Table Saw kit PLUS get a FREE 12.0 Battery ($190 value)
Save 16% on the Milwaukee M18 Grease Gun
Save $13 on the Milwaukee M12 740 Lumen Spot Light
Save $22 on the Milwaukee 72″ Redstick Concrete Level PLUS get the 24″ Level FREE
Now Till January 31, 2019, buy one Milwaukee Stud 25′ Tape Measure, get one FREE! Get an extra 10% OFF during our Thanksgiving Week Sale!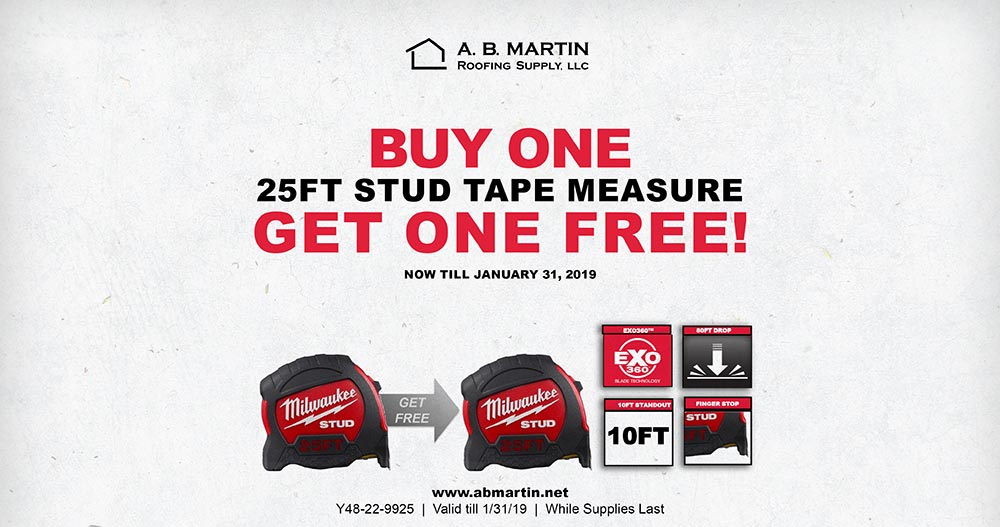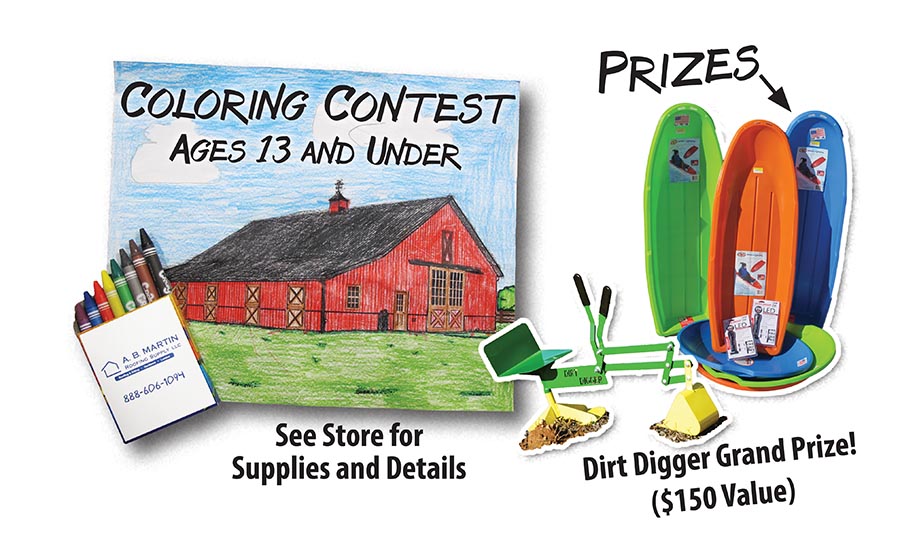 Coloring Contest and FREE Food!
Enjoy some FREE refreshments every day from 6:30 till there gone.
And the fun's not just for the grownups. Pick up an entry form for our first ever building-themed coloring contest for ages 13 and younger. Did we mention a grand prize? The sandbox dirt digger.
Don't miss out!
Fine Print: *Offer is limited to the ABMartin Hardware Stores, and excludes lumber, metal roofing, and most building supplies. Invoices must be paid upon receipt of
merchandise to qualify for discount. Offer valid November 19-24, 2018 unless otherwise noted. While supplies last. Not responsible for typographical errors.