Whether you're looking for a functioning ventilation system, or a cherry for on top of your masterpiece, we have many options to customize your steel cupola.  And because we ship them out pre-assembled in only one or two pieces, installation is a breeze.
Specifications
Made from heavy-duty 26-29 gauge steel.  (Wood-free means rot-free.)
Four standard sizes: 16″, 24″, 36″, & 48″ square.
Vented or solid louvered sides are standard.  Window options available in 36″ and 48″ cupolas.
Pre-assembled for quick installation.
Any base, wall, trim, or roof color combinations.
Pre-assembeld heavy gauge base designed to support the cupola without additional framing or flashing, custom made to match to roof pitch.
Many styles of weathervanes in stock with many more available for special order.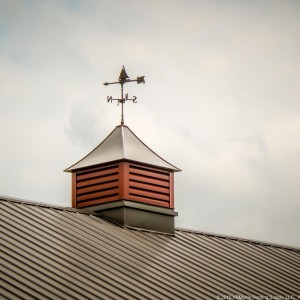 View our Cupolas and Weathervanes Catalog for more ideas and options.